By Lorie Ham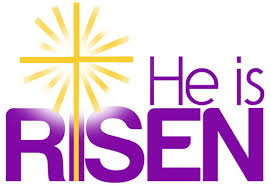 We are living in some pretty crazy times right now, but in the midst of it all life still must go on and it is important to continue to celebrate the things that are important to us—whether the celebrating is done in our own homes, or virtually through Facebook, Zoom, or Skype. Easter is one of those times that is special to many of us, and it is nice to look back at special moments and traditions. The staff of Mennonite Insurance Services would like to share with you some of theirs, and hope that you will share some of yours.
"Our family has several traditions around Easter," shares Jerry Linscheid, Manager Mennonite Aid Plan / Mennonite Insurance Services. "We always got together as an extended family on Easter after church. We have a number of late March/early April birthdays, so took advantage of our time together to celebrate birthdays as well. The birthday people would decide on the menu and each family would bring their assigned dish."
When the children in Jerry's family were young they hid Easter eggs in the yard, but as they became older, they found more creative hunts to do. "We made a container/basket for each one with goodies and hid them in progressively difficult locations. My brother had some acreage in the country, so we had about 20 acres and some out buildings to hide eggs. Eventually all baskets were found. On hot days, we included ice packs in the baskets to keep the chocolate from melting. I'm not sure if the hider or the finder had the most fun. As the next generation came along, we brought out the plastic eggs and hid them in the yard again."
"When I was about 10, my parents moved out into the county," says Stephanie Heier. "We lived on a large piece of land, which made for an excellent sunrise service. My parents began hosting an Easter sunrise service. Early in the morning, we would set up chairs, make the coffee, and set out the Paska (a Mennonite white bread with frosting and sprinkles that was often baked in an old coffee can). Traditional Easter songs were sung. I fondly remember singing, 'Up From the Grave He Arose' and 'Christ the Lord Has Risen Today' and sitting on cold metal chairs, with the sun ready to break over the mountain peaks. A short message was given and then refreshments were enjoyed. Those are special memories."
Sunrise services are also a big part of Michelle L. Heinrichs' family traditions. When growing up in Exeter, California, they walked up Rocky Hill to the top of the mountain, where a cross still stands. "There would be a simple service and then we'd head home to have our usual Easter service and family gathering. Now, when we can, we join a local church's sunrise service and then our own church and still enjoy lunch at home in Exeter. Praying that we will still have some version of that this year, even if it's our own family doing a sunrise service at the Kings River."
Whatever your traditions may be, make sure you find a way to celebrate them this year, whether you are able to celebrate in person or virtually. You can find the history behind some Easter traditions in this interesting article on Mental Floss and find some possible new traditions to try out this year in this fun article in Country Living.